Who can use this feature?







Overview
The Carousel Widget allows you to group and display together up to 10 different widgets that your citizens can intuitively navigate with arrows. It can also let them page allow the carousel to transition automatically. Each group can contain up to 3 widgets, which allows you to present more impact information in less space.
Instructions
Navigate to the page that the carousel widget should be on
Note: The Carousel widget is commonly used on Home Pages.


Turn on Live Edit


Navigate to the Widgets tab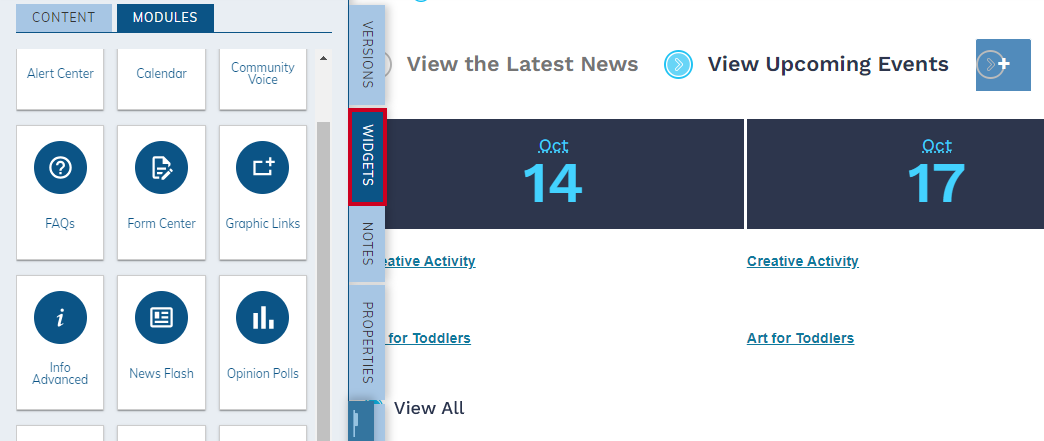 Drag-and-drop the Carousel Widget onto your page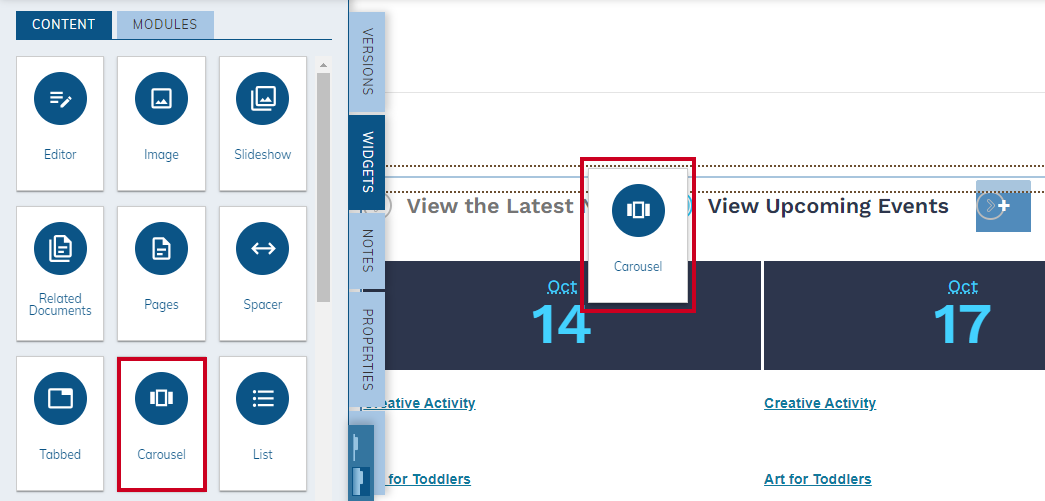 In the Widget Options pop-up, set your preferences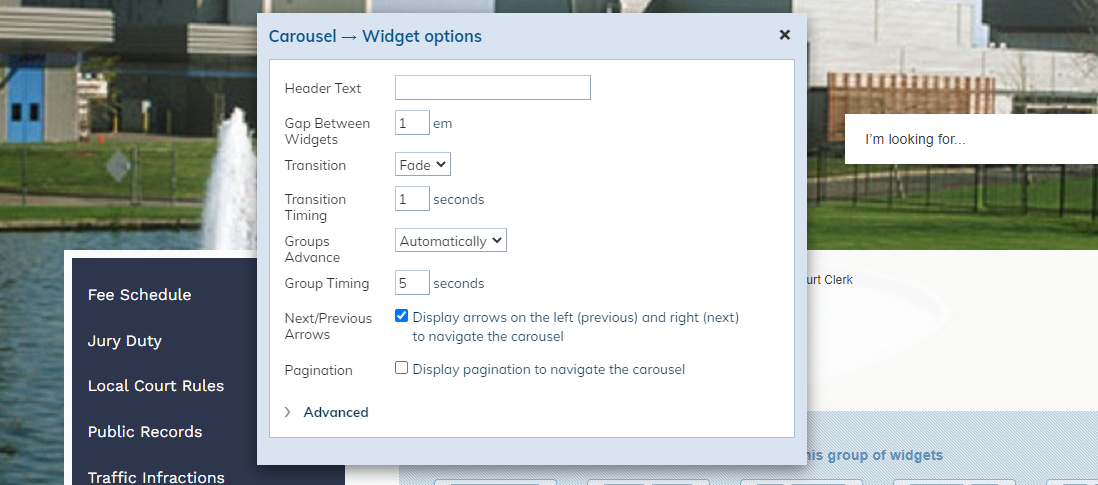 Header Text: Text at the top of the widget
Gap Between Widgets: Spacing that displays in-between the widgets within the template
Transition: Set what transition you want to use when a user navigates between pages of the carousel widget
Transition Timing: Set how fast you want the transition to be when a user navigates between pages of the carousel widget
Groups Advance: Choose automatic or manual content rotation
Group Timing: Determines how long content is on the screen before it moves onto the next group

Note: This option is only available if you select Automatic Groups Advance.

Next/Previous Arrows: Determines if arrows manually move to the next group

Next: If you do not check the box, that means it is unavailable to the user.

Pagination: Determines if dots are available to the user at the bottom of the carousel widget in order to proceed to any of the groupings within the carousel widget
Advanced - Widget Breakpoint:



Note: You should not need advanced options, as this is the breakpoint. If your widget is not stacking correctly when in live edit, ensure the breakpoint is set to 25. The breakpoint determines at what point content goes to the next line on the screen.


Select the X in the upper right-hand corner to exit the Widget options pop-up


Pick your layout as prompted on the screen


Drag-and-drop widget(s) to the chosen layout


Set appropriate properties to best match with the area that is being placed on it (will vary with widgets)


Note: If there is already an existing widget on the page, you can hover over it and select the three bullet points on the top of it and see what the settings are already to match.


Relate your desired category


Repeat steps 8 to 10 for all desired slots
Note: To add more slots, you will select the + at the bottom corner of the Carousel Widget. You can add a new layout to the left or right of an existing layout. Keep in mind, the more widgets you add the more your site performance can be affected.



Select Save at the top of your page


Examples
Users most commonly apply the Carousel Widget on homepages to showcase many items that share throughout several departments or categories. For instance:
Showcase 2 Info Advanced Spotlights and a Quick Links Category Side-By-Side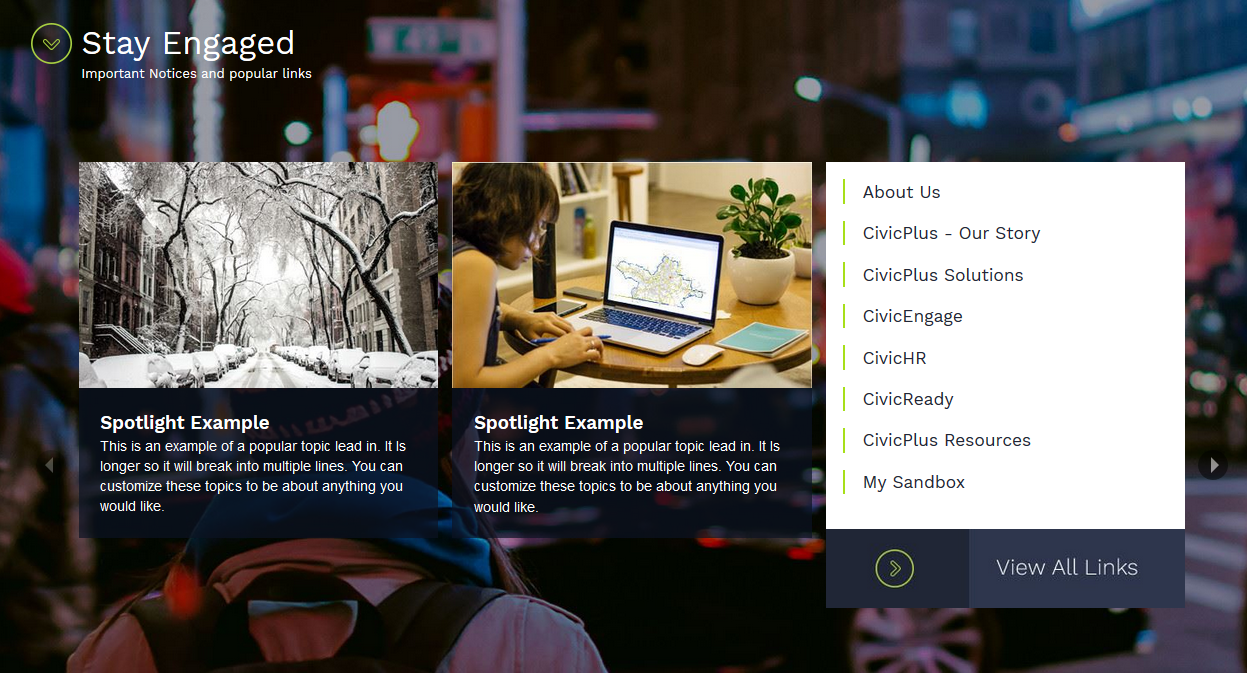 Showcase a Calendar and News Flash Side-By-Side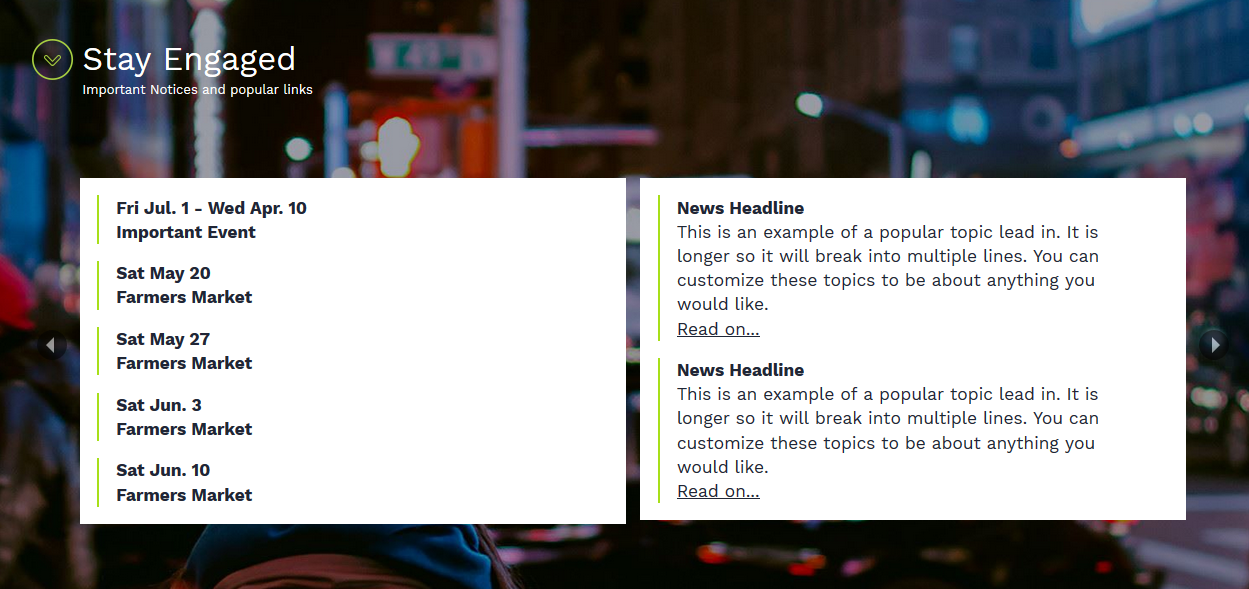 Showcase 3 Info Advanced Spotlights Side-By-Side