A mega menu appears in a broad area and shows up to 2 levels of the menu. Mega menus are recommended to enhance a user's ability to navigate the site.
Reasoning: Mega menus that show everything at once are easier to navigate than the typical "tree and branch" structure of drop-down menus. For bigger sites with many features, regular dropdown menus typically hide most of the user's options.
Use Two-Tiered Mega Menus to Show Relationships
Two-tier mega menus let you emphasize relationships among items. Use categories to house similar information within the first and second tiers of a mega menu. For example, under a How Do I global navigation, Notifications, and Recreation Activities & Programs fit into a group that is called Sign Up For.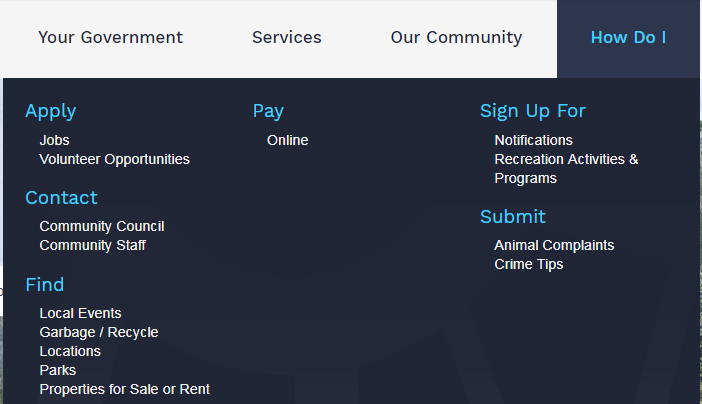 Reasoning: Two-tier mega menus allow the user to see deeper into the navigation. Categorizing and placing all pages related to each other within the same section under a global navigation item helps users understand their choices.
Note: If you have a smaller site, use a one-tier mega menu and include links with obvious destinations, such as Adopt a Pet or Pay My Utility Bill.
Resources