Widgets are used to customize pages. Listed in this article are the different widgets available in Live Edit. Widgets belong to one of two groups: Content and Modules.
Content widgets allow adding and editing content directly on a page via Live Edit.
Modules widgets allow adding module content to a page. This automatically updates pages from modules such as the Calendar or News Flash. This also allows adding content to multiple pages that can be edited in a single location (Info Advanced, Quick Links, or Staff Directory). Content for Modules widgets is edited in the associated module.
If you are unsure which widget contains existing content on a page, please view the article Determining Widget Type.
Content Widgets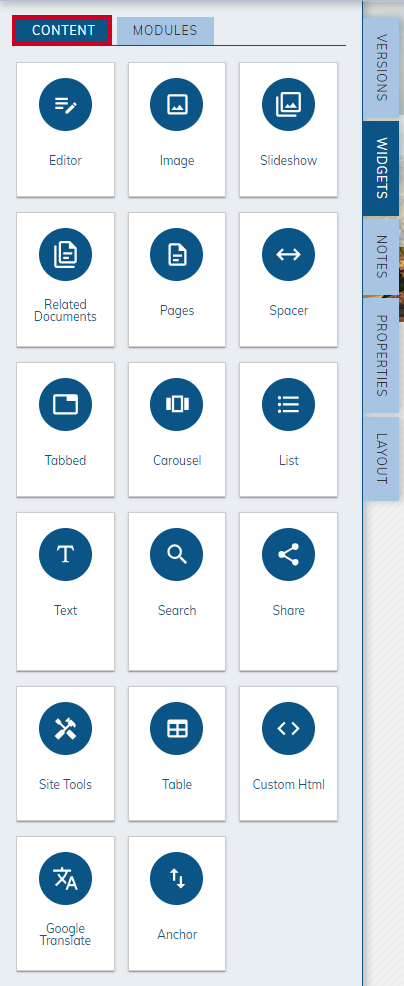 Module Widgets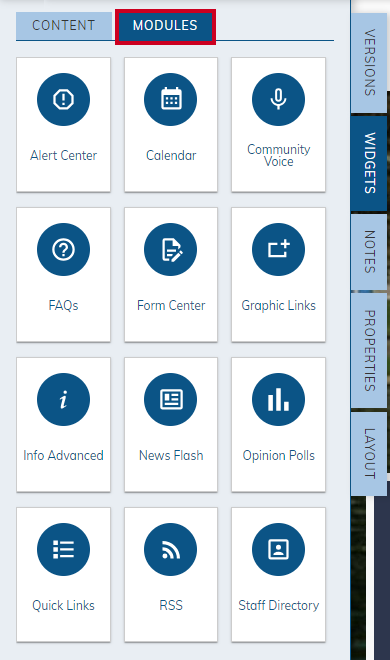 Alert Center: Allows you to add a banner to your site when there is an emergency/important notification in the area
Calendar: Allows you to add a calendar of events for specific pages on your site
Community Voice: Allows you to add a place on a page where residents can have discussions about related topics
FAQs: Allows you to add FAQs related to your page for clarity and understanding
Form Center: Allows you to embed a form directly on the page
Graphic Links: Allows you to add graphics on your site that link to other pages
Info Advanced: Allows you to add sections of specified information related to your page
News Flash: Allows you to inform residents and users of what is happening in and around your city, town, county, or school district
Quick Links: Allows you to provide links to important information, documents, or related websites, cutting down on phone calls and foot traffic
RSS: Allows residents to subscribe to the feed of specific modules of your site
Staff Directory: Allows you to add staff contact information