Compliance Notes
Ensure that all images have appropriate, compliant alt text.
Do not place decorative images, stock photos, or clip art on the page. Place these images in the image repository and then leave a client note as to why they are not on the page.
Animated images should not be placed on the page. Place in the image repository and leave a client note as to why they are not on the page.
Complex Images
Complex images are images containing charts, graphs, text, maps, or other information. These images alone are not compliant.
Alt text must describe the information in the image if possible.
All text displayed in the image should be used as alt text. There is a 100-character limit to alt text, so this is not always possible.
A link should be provided to an accessible format of the information, and alt text should provide the general function.
Note to the client to provide an accessible version if none is available.
Example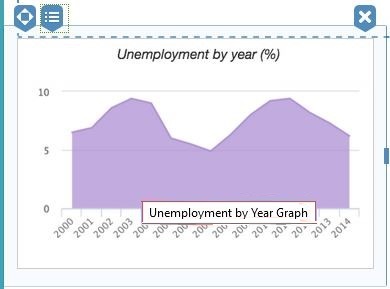 This complex image is a graph denoting unemployment by year. While the alt text (Unemployment by Year Graph) explains what the image is about, it does not convey to users with a screen reader the information that sited users are getting (what the unemployment was each year.)
This graph needs to be available in a compliant form via a link. View our article Link an Image for more information.
Slideshow Compliance
Ensure that slideshows have four images or fewer. If there are more than four images, consider placing them in a photo gallery instead.
Ensure that each image has compliant alt text.
Keep next/previous arrows and pagination options enabled.
Charts, graphs, maps, images with texts (complex images) should not be used in slideshows.
View our article Add the Slideshow Widget to Your Page for more information.