The Staff Directory houses departments, divisions, employees, and facilities. These are only directly related to the municipality (not third-party, not other companies which should live in Info Advanced.)
Do not include boards and commissions (except the main governing body).
Departments, divisions, and employees should be listed alphabetically (last name for employees). 
Formatting    
Address
Abbreviate all compass points without periods (N, S, NE, NW, etc.)
Spell out all street modifiers (Road, Drive, Street, Avenue, etc.) for greater usability
Phone
Should consist of the area code then the phone number, no parenthesis
XXX for three-digit numbers (no dashes)
Fax
Should consist of the area code then the fax number, no parenthesis
Email
Email hyperlinks must be masked for Web Content Accessibility Guidelines (WCAG) compliance
Write "Email Jane Doe" as the text in the "Show Email As" field for individual employees and write "Email the Government Department" for departments or offices
Hours
Place in the "Brief Description" box
Spell out all dashes in the day and time spans per WCAG compliance.

Dashes are not recognized by screen readers
To, through, and thru are acceptable

Times should use periods in a.m. and p.m

Use noon and midnight in place of 12 a.m. and 12 p.m.

The word "Hours" should be in Subhead 2
Default Information
Remove any default information in the module if you are not completing all the fields for that section.
For example, remove the city, state, and zip code information for the Mailing Address section if you have no street or P.O. Box info to fill in.
Examples
Department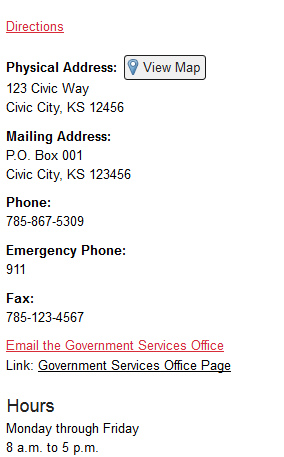 Employee